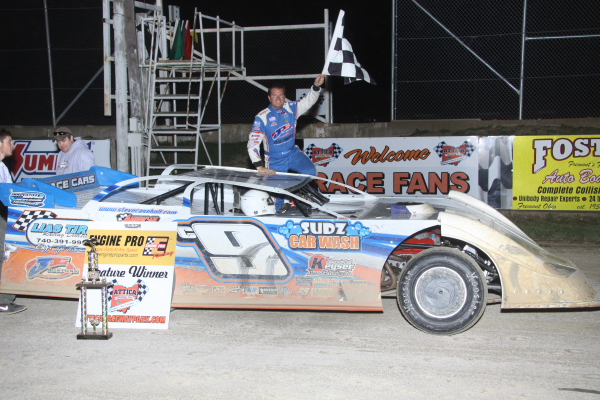 By Brian Liskai
Attica, Ohio (Friday, April 17, 2015) – Steve Casebolt had a lot of seconds and thirds over the years at Attica Raceway Park. On Friday, the Richmond, Indiana driver led all 30 laps to score his first career victory on Kear's Speed Shop/True Value of Woodville Night.
Casebolt had to hold off a charging Doug Drown the final three laps to score the American Late Model Series win aboard his Tye Twarog owned machine.
"We kind of got to struggling there at the end. I felt like we were good at the beginning. Lapped cars were difficult to deal with. I've been here several times…been coming here a long time and have had a lot of seconds and never had won one so we finally broke the jinx," said Casebolt of his Lias Tire/JE Pistons backed c9.
"I have to thank Tye Twarog. He came on board with us this year in a big way. We wouldn't have even been here if it weren't for him. Thanks to my crew guys Saul-Bone, Hobsy and Dillon," added Casebolt.
Former Attica champion Dean Jacobs of Wooster, Ohio, would lead all 30 laps of the O'Reilly Auto Parts 410 Sprint feature to score his 11th career win. It wasn't easy for Jacobs as six time track champion Byron Reed made it very interesting the final two laps as the race went green to checker with no cautions.
The win for Jacobs aboard the Joe and Diane Seeling owned #97 starts the season for the Kistler Racing Products Fremont Attica Sprint Title (FAST) Championship Series and its $10,000 title.
"There's a little chemistry here. Joe and I have been buddies for quite awhile. Like all good relationships you have your ups and downs and we've had them but we've overlooked them and came back together. Ronnie unfortunately had a little trouble of his own over the winter and he's in a wheelchair now. It means a lot. He still works his butt off on this car and Floyd…they make this thing fast and I get the fun of driving it," said Jacobs beside his Northwest Ohio Towing/Sugar Street Bar and Grill/NAPA Truck Center backed machine.
"The inside boards of my wing are still aluminum and I get a glare off of them and I kept thinking someone was driving beside me. I probably slacked off a little there at the end of the race. I hit the tires (on bottom of the track) a few times but as long as you're on the gas it pops the front end a little but you keep going," added Jacobs.
"We're putting a full assault on the FAST championship this year. If we don't win it I'll be very disappointed," continued Jacobs.
Castalia, Ohio's Jordan Ryan would survive a restart with just one lap remaining to claim his second Foster's Auto Body 305 Sprint feature of 2015. The win for the defending track champion is his 7th career victory at "Ohio's Finest Racing" speedplant which also opened the season for the JLH General Contractor FAST 305 Championship Series.
"I got to start up front for a change. Last year I started seventh about 12 times. The cautions kept me out of lapped traffic which was getting very hard to pass. I was hoping for a caution that last lap because they were on the high side and bottom. I thought I'd be okay but then I thought it might hurt me because I thought Bobby Clark was going to come right through the middle," said Ryan beside his Village Pizza House/KDB Rentals/Burns Electric/Frosty Frog/Sandwisch Hay and Straw/Kistler Racing Products/Griff's Engines/Big D's Lawncare/Walton's Cutting Crew/Precision Body and Frame/J&J Automotive backed machine.
For the 30 lap ALMS feature Drown and Casebolt would bring the field to green with Casebolt gaining the advantage. Drown would have his hands full early with Ryan Markham with Ryan Missler and Matt Irey staying close.
After a lap was scored Greg Oaks would spin. On the restart Casebolt would pull away slightly as Markham drove into second with Drown, Missler and Irey giving chase. Drown would drive back into second a lap later.
A long green flag run would follow and Casebolt would hit lapped traffic by the 13th circuit allowing Drown to close with Markham and Irey locked in a tremendous battle for third. Irey would take the third spot on lap 14.
With six laps to go Casebolt was in heavy lapped traffic as Drown pulled right to his rear bumper. The second and final caution would come out on lap 25 for a Dusty Moore spin. On the restart Casebolt couldn't shake Drown who raced to his inside lap after lap. Coming to the white flag Drown and Casebolt were side by side. Casebolt got a good run off the bottom of turn two the final lap and drove to the win over Drown, Irey, Missler and Markham.
Jacobs and Stuart Brubaker brought the field to green in the 410 sprint feature with Jacobs gaining the edge as Chad Kemenah drove into second while DJ Foos, Reed, Brubaker, Rob Chaney and Chris Andrews gave chase.
Kemenah drove to Jacobs' outside several times over the first six laps before Jacobs was able to pull away slightly. Foos would then pressure Kemenah and would take second on lap 9.
The leaders hit lapped traffic by the 12th lap with the running order Jacobs, Foos, Reed, Kemenah, Chaney, Andrews, Brubaker, 12th starter Cap Henry and Craig Mintz. Reed would take second at the halfway point of the race with Kemenah driving around Foos for third a lap later.
With 12 laps to go Reed was closing on Jacobs with Kemenah, Foos, Chaney and Henry in pursuit. Jacobs and Reed ran nose to tail over the next 10 laps and with two to go Reed raced to Jacobs' outside with Kemenah, Henry and Foos in tow.
As they took the white flag Jacobs was glued to the bottom with Reed trying the middle. As they raced out of turn two the final time Jacobs got a great bite off the bottom as Reed would try one final time to the outside in the final turns. Jacobs would hold Reed off for the win with Kemenah, Henry and Foos rounding out the top five.
In the 25 lap 305 sprint feature John Ivy and Ryan would bring the field to green with Ryan gaining the advantage. Ivy, Paul Weaver, Bobby Clark, Steve Rando and Jamie Miller would give chase. Clark would move into third on the second lap and would grab second on lap four. Miller would move into third on lap five.
The leaders would race into heavy lapped traffic by just the seventh circuit with Ryan's lead disappearing as Clark, Miller, Ivy and Alvin Roepke in pursuit. Trey Jacobs would bring out the first caution on lap 12 as he spun right in front of the leaders. On the restart Ryan was able to pull away slightly as Miller took second from Clark with Roepke, Rando and Ivy giving chase.
As Ryan stayed glued to the bottom, Clark would find the middle groove to his liking as he blasted back into second on lap 16 with Miller staying close. Lapped traffic would come into play again with four laps to go with Ryan leading Clark, Miller, Roepke, Rando, Weaver, Kyle Capodice and Ivy.
Tyler Street would bring out only the second caution of the race just after the white flag had flown. Ryan got a great restart and drove to the win over Clark, Miller, Roepke and Rando.
Attica Raceway Park will be back in action, Friday, April 24 on Fisher Performance/Merrill Lynch Night with the 410 sprints, UMP late models and 305 sprints in action.
For more information go to www.atticaracewaypark.com or follow on Twitter @atticaracewyprk.
Attica Raceway Park
Kear's Speed Shop/True Value of Woodville Night
April 17, 2015
[*] indicates starting position
O'Reilly Auto Parts 410 Sprints –
Qualifying
1.1st-Gary Taylor, 12.496; 2.19-Chris Andrews, 12.499; 3.9x-Rob Chaney, 12.548; 4.10H-Chad Kemenah, 12.609; 5.45-Tim Shaffer, 12.624; 6.40-Caleb Helms, 12.629; 7.5-Jordan Harble, 12.637; 8.15H-Mitch Harble, 12.671; 9.21-DJ Foos, 12.697; 10.16-Stuart Brubaker, 12.715; 11.5R-Byron Reed, 12.715; 12.09-Craig Mintz, 12.743; 13.77-Dain Naida, 12.749; 14.9Z-Duane Zablocki, 12.754; 15.97-Dean Jacobs, 12.756; 16.9H-Jac Haudenschild, 12.794; 17.40DD-Nate Dussel, 12.815; 18.45L-Brian Lay, 12.820; 19.53-Cap Henry, 12.898; 20.9P-Parker Price-Miller, 12.905; 21.9-Jimmy Colvin, 12.936; 22.8M-TJ Michael, 12.991; 23.83M-Broc Martin, 13.012; 24.60-Jody Keegan, 13.099; 25.68G-Tyler Gunn, 13.352; 26.78-Todd Kane, 13.417; 27.25M-Ken Mackey, 13.675; 28.59-Bryan Nuckles, 13.779;
Nitro Black Performance by Engine Pro Heat 1, Group A – (8 Laps top 4 to A)
1. 16-Stuart Brubaker[1] ; 2. 19-Chris Andrews[4] ; 3. 15H-Mitch Harble[2] ; 4. 25M-Ken Mackey[7] ; 5. 9P-Parker Price-Miller[5] ; 6. 9-Jimmy Colvin[6] ; 7. 5-Jordan Harble[3]
Summit Racing Equipment Heat 2, Group B – (8 Laps, top 4 to A)
1. 9x-Rob Chaney[4] ; 2. 9Z-Duane Zablocki[1] ; 3. 09-Craig Mintz[3] ; 4. 40DD-Nate Dussell[5] ; 5. 83M-Broc Martin[6] ; 6. 77-Dain Naida[2]
Ultra Shield Race Products Heat 3, Group C – (8 Laps, top 4 to A)
1. 5R-Byron Reed[2] ; 2. 10H-Chad Kemenah[3] ; 3. 45L-Brian Lay[5] ; 4. 9H-Jac Haudenschild[1] ; 5. 1st-Gary Taylor[4] ; 6. 8M-TJ Michael[6] ; 7. 59-Bryan Nuckles[7]
Rockauto.com Heat 4, Group D – (8 Laps, top 4 to A)
1. 97-Dean Jacobs[1] ; 2. 21-DJ Foos[2] ; 3. 53-Cap Henry[5] ; 4. 40-Caleb Helms[3] ; 5. 45-Tim Shaffer[4] ; 6. 60-Jody Keegan[6] ; 7. 68G-Tyler Gunn[7]
Computer Man B-Main 1 – (10 Laps to 4 to A)
1. 45-Tim Shaffer[4] ; 2. 83M-Broc Martin[2] ; 3. 1st-Gary Taylor[3] ; 4. 9-Jimmy Colvin[5] ; 5. 8M-TJ Michael[7] ; 6. 68G-Tyler Gunn[11] ; 7. 59-Bryan Nuckles[10] ; 8. 77-Dain Naida[6] ; 9. 60-Jody Keegan[8] ; 10. 5-Jordan Harble[9]
A-Main 1 – (30 Laps)
1. 97-Dean Jacobs[1] ; 2. 5R-Byron Reed[3] ; 3. 10H-Chad Kemenah[4] ; 4. 53-Cap Henry[12] ; 5. 21-DJ Foos[6] ; 6. 16-Stuart Brubaker[2] ; 7. 45-Tim Shaffer[17] ; 8. 09-Craig Mintz[10] ; 9. 40-Caleb Helms[16] ; 10. 19-Chris Andrews[5] ; 11. 9x-Rob Chaney[7] ; 12. 9Z-Duane Zablocki[8] ; 13. 40DD-Nate Dussell[14] ; 14. 45L-Brian Lay[11] ; 15. 1st-Gary Taylor[19] ; 16. 25M-Ken Mackey[13] ; 17. 83M-Broc Martin[18] ; 18. 9-Jimmy Colvin[20] ; 19. 9H-Jac Haudenschild[15] ; 20. 15H-Mitch Harble[9]
Foster's Auto Body 305 Sprints –
Nitro Black Performance by Engine Pro Heat 1 – (8 Laps, top 5 to A)
1. 1W-Paul Weaver[2] ; 2. 39-Jamie Miller[7] ; 3. 8-Bobby Clark[1] ; 4. 36-Seth Schneider[4] ; 5. 11G-Luke Griffith[6] ; 6. 48-Mike Burkin[8] ; 7. 18-Frank Neill[5] ; 8. 44-Kyle Farmer[3] ; 9. 75-Jerry Dahms[9]
Summit Racing Equipment Heat 2 – (8 Laps, top 5 to A)
1. 2-Ricky Peterson[3] ; 2. 99-Alvin Roepke[4] ; 3. 13-Jeremy Duposki[1] ; 4. 19R-Steve Rando[8] ; 5. 25-Jason Keckler[6] ; 6. 3J-Trey Jacobs[7] ; 7. 87-Brian Gibbs[2] ; 8. 20I-Kelsey Ivy[5]
Ultra Shield Race Products Heat 3 – (8 Laps, top 5 to A)
1. 22M-Dan McCarron[1] ; 2. 5R-Jordan Ryan[6] ; 3. 77I-John Ivy[3] ; 4. 12-Kyle Capodice[8] ; 5. 7M-Brandon Moore[7] ; 6. 4*-Tyler Street[5] ; 7. 97-Kyle Peters[2] ; 8. 2L-Landon LaLonde[4]
Computer Man B-Main 1 – (10 Laps, top 5 to A)
1. 48-Mike Burkin[1] ; 2. 4*-Tyler Street[3] ; 3. 3J-Trey Jacobs[2] ; 4. 18-Frank Neill[4] ; 5. 20I-Kelsey Ivy[8] ; 6. 97-Kyle Peters[6] ; 7. 75-Jerry Dahms[10] ; 8. 44-Kyle Farmer[7] ; 9. 87-Brian Gibbs[5]
A-Main 1 – (25 Laps)
1. 5R-Jordan Ryan[2] ; 2. 8-Bobby Clark[6] ; 3. 39-Jamie Miller[5] ; 4. 99-Alvin Roepke[10] ; 5. 19R-Steve Rando[3] ; 6. 12-Kyle Capodice[12] ; 7. 77I-John Ivy[1] ; 8. 2-Ricky Peterson[7] ; 9. 1W-Paul Weaver[4] ; 10. 22M-Dan McCarron[11] ; 11. 36-Seth Schneider[8] ; 12. 11G-Luke Griffith[13] ; 13. 3J-Trey Jacobs[18] ; 14. 7M-Brandon Moore[15] ; 15. 25-Jason Keckler[14] ; 16. 48-Mike Burkin[16] ; 17. 4*-Tyler Street[17] ; 18. 20I-Kelsey Ivy[20] ; 19. 18-Frank Neill[19] ; 20. 13-Jeremy Duposki[9]
ALMS Late Models –
Heat 1 – (10 Laps, top 4 to A)
1. C9-Steve Casebolt[8] ; 2. 13-JR Hotovy[1] ; 3. 54-Matt Westfall[2] ; 4. 00-Chris Kelley[5] ; 5. 5J-Josh Haynes[4] ; 6. 22JR-Michael Oaks[9] ; 7. 1-Ben Mott[6] ; 8. 03-Jim Gingery[3] ; 9. 23J-Mike Hudson[7]
Heat 2 – (10 Laps, top 4 to A)
1. 240-Doug Drown[1] ; 2. 71I-Matt Irey[4] ; 3. 22-Greg Oaks[2] ; 4. 21-Larry Kingseed[5] ; 5. 88-Andrew Reaume[9] ; 6. 23V-Ryan Vanderveen[7] ; 7. 48-John Bores[3] ; 8. 15A-Phil Ausra[6] ; 9. 53M-Hillard Miller[8]
Heat 3 – (10 Laps, top 4 to A)
1. 50Y-Ryan Missler[2] ; 2. 6M-Dona Marcoullier[4] ; 3. M14-Brandon Thirlby[8] ; 4. 20-Chad White[7] ; 5. 91-Rusty Schlenk[9] ; 6. 34-Herb Reich[3] ; 7. 53-Steve Sabo[5]
Heat 4 – (10 Laps, top 4 to A)
1. 5M-Ryan Markham[6] ; 2. 15B-Mike Bores[5] ; 3. 75-Dusty Moore[8] ; 4. 71-Dave Hornikel[2] ; 5. 51-Devin Shiels[7] ; 6. 69R-Doug Baird[1] ; 7. 06-Jake Rendel[3] ; 8. 92-Cody Scott[4]
B-Main 1 – (10 laps, top 2 to A)
1. 20-Chad White[9] ; 2. 007-Rick Bond[8] ; 3. 5J-Josh Haynes[1] ; 4. 03-Jim Gingery[6] ; 5. 53-Steve Sabo[5] ; 6. 34-Herb Reich[3] ; 7. 1-Ben Mott[4] ; 8. 22JR-Michael Oaks[2] ; 9. 23J-Mike Hudson[7]
B-Main 2 – (10 Laps, top 2 to A)
1. 88-Andrew Reaume[1] ; 2. 23V-Ryan Vanderveen[3] ; 3. 53M-Hillard Miller[8] ; 4. 15A-Phil Ausra[7] ; 5. 48-John Bores[5] ; 6. 06-Jake Rendel[6] ; 7. 69R-Doug Baird[4]
A-Main 1 – (30 Laps)
1. C9-Steve Casebolt[2] ; 2. 240-Doug Drown[1] ; 3. 71I-Matt Irey[6] ; 4. 50Y-Ryan Missler[4] ; 5. 5M-Ryan Markham[3] ; 6. 13-JR Hotovy[5] ; 7. 15B-Mike Bores[8] ; 8. 54-Matt Westfall[9] ; 9. 21-Larry Kingseed[14] ; 10. 6M-Dona Marcoullier[7] ; 11. 71-Dave Hornikel[16] ; 12. M14-Brandon Thirlby[11] ; 13. 23V-Ryan Vanderveen[20] ; 14. 88-Andrew Reaume[18] ; 15. 15A-Phil Ausra[21] ; 16. 75-Dusty Moore[12] ; 17. 00-Chris Kelley[13] ; 18. 20-Chad White[17] ; 19. 91-Rusty Schlenk[15] ; 20. 007-Rick Bond[19] ; 21. 22-Greg Oaks[10] ; 22. 48-John Bores[22]